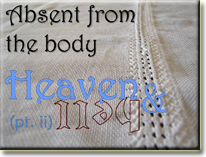 Heaven and Hell, pt. ii
July 22, 2007
Passage:
John 14:1-3 & Selected Scriptures
Series:
Absent from the body
Society has many views , speculations, and doubts on what the after-life will be like. God's word gives us some images of things in heaven that we can be sure of. The most frequent illustration of heaven is that of a large, festive banquet. At the beginning of eternity, there is a large feast called the "wedding supper of the Lamb." (Re 19:9) The invitations have been mailed, the guests are making their RSVPs, and the table is being set.

Heaven and Hell, pt. i
July 15, 2007
by: Pastor John Stillman

Passage: Selected Scriptures & Luke 16:19-33

Series: Absent from the body

Duration: 37:20
Culture has many views and speculations on what the after-life will be like. What does the Bible teach about heaven and hell? In the first part of this series, we will look at what the Bible teaches about hell.