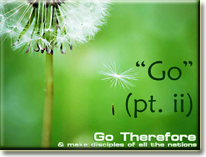 Go - pt. ii
June 10, 2007
Passage:
Selected Scriptures
As we go out into the world, Jesus calls on us to be His witnesses. In this message, Pastor John uses the letters in the word WITNESS to help us remember how to sow seeds for the gospel.

Go -pt. i
June 03, 2007
by: Pastor John Stillman

Passage: Matthew 28:16-20

Series: Go…

Duration: :0
The Great Commission that Jesus has given to His followers starts with the word "Go." The Father's intention is for the whole world to know about Jesus and the salvation He provides. His solution is to use ordinary people like you and me to spread the word.